Warehouse Management System for companies of all sizes and industries.
The warehouse management software by COGLAS is specifically designed to make your warehouse logistics transparent and quick. The software is installed and ready to be deployed in just 2 days and will support all your logistics processes – from goods inwards to dispatch.
This is what modern warehouse management is supposed to look like
Easy-to-understand controls, individual user rights and error prevention mechanics. Control your logistics processes easily from any mobile device in the COGLAS Cloud or as a local installation.
Reliable inventory data
Organise your items by quantity, status, batch and a multitude of other categories.
Ultra-fast product search
Use your smartphone to navigate to the right storage location – via the quickest route.
Fewer goods returned
Faulty ordering or delivery mix-ups are no longer a problem with this system.
Individual warehouse layout
Create your very own individual warehouse layout: from the overall warehouse level right down to the last single shelf.
A Warehouse Management System that adapts to your processes.
The COGLAS warehouse management software is designed based on a modular system principle. This allows you to decide which modules you want to end up using and which you don't. Additionally, the interactive user interfaces can be individually adjusted to your specific needs and processes. For each process (example goods inwards) control mechanisms such as checklists can be enabled, or unneeded information can be hidden. With less clutter, your employees will become familiar with the system very quickly.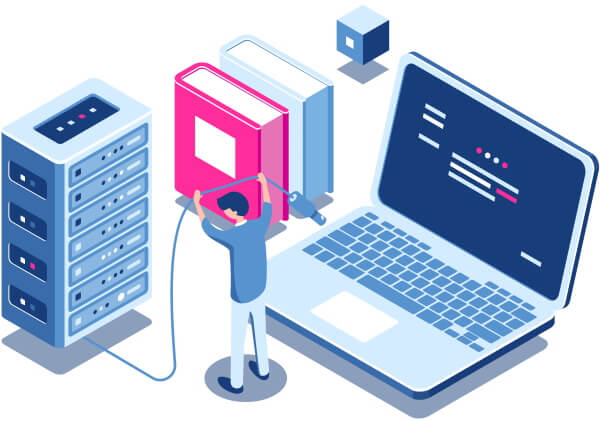 A flexible cloud solution and completely integrated IT services under one roof.
Start immediately without any additional hardware needed
For many WMS systems it is necessary to invest in expensive hardware. The COGLAS warehouse management software is different. The software can also be used as a cloud-based system, making it a very cost-effective solution. In this case you pay a monthly all-inclusive fee allowing you to use all functions through web access. You can also use it as a local installation without any restrictions or difficulties.
Excellent support with our IT services
Do you need assistance with extending WiFi access in your warehouse or require new label printers and barcode scanners? We will gladly support and advise you regarding all your questions concerning your IT infrastructure as well as take over the technical implementation at your warehouse.